About The Dells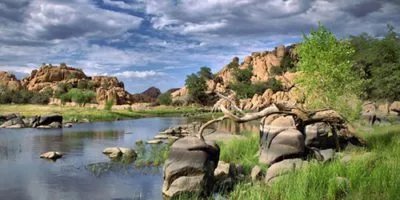 One of Prescott AZ's treasures has to be the Granite Dells. A little over 4 miles North of downtown Prescott, the Dells offer unique granite rock formations, 2 small lakes, and miles upon miles of trails. From easy mountain bike rides, leisurely hikes, to tough and technical terrain as well, the Dells offer something truly unique when it comes to outdoor recreation.
The two main areas that visitors go to on a daily basis are the city parks located in the Granite Dells. Watson Lake Park and Willow Lake Park. Both parks are open year round allowing visitors to see the changing scenery through the 4 mild seasons. The summers are cooler than Southern Arizona. And the winters are mild too, offering snow occasionally that melts off pretty quickly.
Of course, Monsoon season in Prescott AZ offers some incredible cloud builds, and dramatic sunrise and sunset photography opportunities. And the dells offer stunning views during the season. Even outside of the monsoon season, the views in these unique formations are second to none.
Choosing a home at The Dells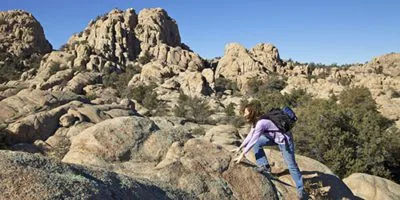 The Granite Dells rugged beauty and dramatic rock shapes are the perfect backdrop of our new master planned community called The Dells. Centrally located in the heart of the Quad Cities, in Prescott, Arizona, you'll discover new homes of glass, stone and wood forged in the Southwest Contemporary design and wholesome texture of our more than 1,100-acre site.  The Dells lays claim to panoramas of Granite Dells and surrounding mountains, with acres of open space, miles of private hiking and connection to more than 400 acres of public trails.  Find yourself at home here with us in Prescott's newest and most captivating subdivision, The Dells