to bring comfort and ease with every transaction
[idx_search user_sorting="on" location_search="on" detailed_search="on" property_type_enabled="on" link="1akwuqsuol5k" destination="local" listings_per_page="10″ buttontext="Show Me" default_view="list" orientation="horizontal" title_font="Georgia" title_text_color="#6b8696" field_font="Times" field_text_color="#6b8696" background_color="#fbc4cc" submit_button_background="#547b96″ submit_button_text_color="#ffffff" detailed_search_text_color="#6b8696" widget_version="2″]
[idx_slideshow title="Newest additions in the Prescott area" link="1ocbot4lqvvb" horizontal="5″ vertical="1″ auto_rotate="5000″ source="location" display="new" sort="recently_changed" additional_fields="beds" destination="local" days="3″ send_to="photo"]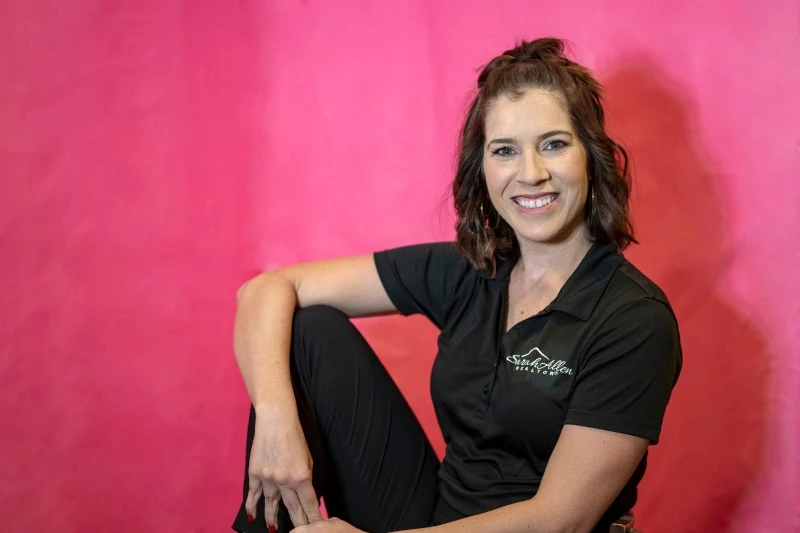 A licensed Prescott, AZ Realtor under Glow Real Estate Collection, Sarah is known for using her industry knowledge and responsive communication skills to provide the best type of service for her clients. Real estate is a passion for Sarah, and with her background in golf course management, coaching and customer care, it is easy to see why so many have called Sarah for help buying and selling.
As a dedicated real estate professional, Sarah will not hesitate to go above and beyond to help you fulfill your real estate goals, in addition to providing you with comfort and ease with every transaction. Whether you're in the market for a new residence for your family or one to use for vacations, rest assured that Sarah Allen will do what she can to help you land the best deals when it comes to homes for sale in Prescott.
A passionate golfer and mountain biker, when Sarah isn't in the office or hosting events, you'll often find her on the trail or golf course, enjoying time with her friends and family. Real estate has been a passion for Sarah over the years, and her desire to help doesn't stop at clients. She is also the founder of Mompreneur Mastermind, an online platform for Moms who balance life and business like a boss. Our goal is to continually learn new ways to maintain a proper work-life balance through personal growth and development.
Renni Christensen
2022-04-14
I originally came across Sarah on IG when we had zero thoughts of buying a home - I just found her Realtor content cheeky having been a Realtor myself in the past. Her videos always make me giggle. Anyway, our lease was coming due and suddenly buying seemed to be a better financial decision so I reached out to Sarah. Sarah's communication is on point and I appreciated that she communicated w us thru vias we were comfortable with - text/email. She let me do my own thing, finding my own properties on Zillow (I know, eye roll) and stepped in w her expertise as I requested it. I am thankful she worked w us in a way that was easily experienced as we found ourselves in the middle of some trying times after a death in the family the day after we went under contract. She made the entire process as easy as possible and entirely stress-free. I cannot sing her praises enough. Thank you Sarah & team, you really set an example of what a Realtor should be!
Sarah is an amazing real estate agent in the Prescott area. She cares about her clients and the people she works with. Sarah is awesome.
Brooke Weitkunat
2022-01-17
Sarah is super easy to work with. She works hard to get the best deal for her clients. She keeps you up to date on the progress. Super great agent!
We moved to the area from out of state and used Sarah as our Realtor to purchase a home based on a recommendation from some friends that also moved to Prescott a couple of years ago. Really glad we went with Sarah as our agent. She was always on top of things and kept us in the loop on a real nail biter of a transaction. Most importantly, she helped us land the house we wanted in a crazy competitive market!
Sarah is the best! She's honest & helps every step of the way. This is the 2nd time I've used Sarah and I'd use her again & again.
Loved working with Sarah. We were not local when purchasing and she was our eyes and ears on the ground. She was highly recommended and I would highly recommend her if you plan to buy/sell your home. She will be your professional and personal advocate!
Working with Sarah was such a pleasure. My first time selling a home... she was incredibly knowledgable, explained things that I didn't quite understand and was quick to answer any emails, calls or texts I sent her way. On top of that, she is a wonderful person––so friendly and kind. If you're in need of a real estate professional, Sarah Allen is the one to call. She's fantastic. Thank you Sarah for keeping my family's best interest in your mind and in your heart! We're so grateful!
Sarah helped sell my home quickly, and for a great price. She communicated every step of the process and was quick to answer any questions I had. Highly recommend her services!